Electronic temperature switches are used to record temperatures in almost all technical processes.
Record temperatures in shipbuilding, off-shore, petrochemical and chemical sector, plant engineering, mechanical engineering, tunneling technology, hydraulic power packs, cooling systems, food and beverage industry, power plants and other power systems
Two temperature outputs with high accuracy
Sensor tube in brass or stainless steel.
Use in high operating pressures possible.
Individual solutions concerning connection, mounting, material, function...
…
STB-2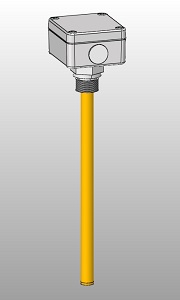 Sensor tube in brass.
Terminal box.
One temperature level adjusted according to customer specifications.
...
TSE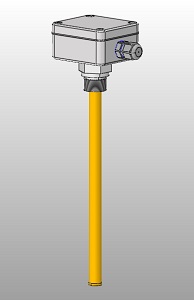 Sensor tube in brass or stainless steel
Terminal box
Two temperature levels adjusted according to customer specifications
Hysteresis adjusted according to customer specification
...
Electronic temperature switches are devices designed to monitor temperatures and perform a switching function when a specific threshold is reached. In contrast to mechanical temperature switches, which rely on thermal or mechanical principles, electronic temperature switches use electronic sensors and circuits to measure temperature and execute corresponding actions. An electronic temperature switch typically consists of a temperature sensing element, a microprocessor or circuit for processing the measured temperature values, and an output circuit for controlling an external device, such as a pump, fan, or heater. These switches can be used in various applications, such as refrigerators, air conditioning systems, heating systems, industrial processes, and other systems where temperature monitoring and control are important. By utilizing electronic circuits, they generally offer higher precision and accuracy in temperature measurement and can also provide additional features such as programmable thresholds, alarms, or digital displays.
Industries and Applications
Manufacturing Industry
Temperature monitoring in production plants, robots, welding processes, assembly lines, etc.
Process Industry
Temperature monitoring in chemical plants, refineries, oil and gas processing, pharmaceutical production, food processing, etc.
Power Generation
Temperature monitoring in power plants, electrical distribution systems, turbines, generators, cooling systems, etc.
Automotive Industry
Temperature monitoring in vehicle manufacturing, painting processes, HVAC systems, test facilities, etc.
Pharmaceutical Industry
Temperature monitoring in cleanrooms, sterilizers, laboratories, filling equipment, drying processes, etc.