Temperature controllers are used to detect and control temperatures in almost all technical processes.
Temperature measurement and control in shipbuilding, off-shore, petrochemical and chemical sector, plant engineering, mechanical engineering, temperature control, hydraulic power packs, cooling systems, potable water treatment, food and beverage industry, power plants and in other power systems
Sensor tube in brass or stainless steel.
Use in high operating pressures possible.
Customized solutions concerning connection, mounting, material, connection, function...
Programmable temperature outputs
…
UTS-1...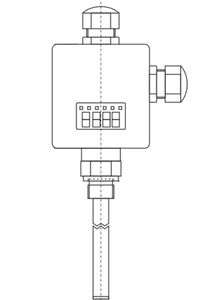 An adjustable temperature switch is a device used to monitor and control a specific temperature threshold within a system. The UTS-1 allows the user to set a particular temperature threshold at which the switch will turn on or off. The device typically consists of a temperature sensor, a control circuit, and a switching mechanism. The temperature sensor continuously measures the temperature of the monitored system, while the control circuit compares the measured temperature with the set threshold value. When the measured temperature reaches or exceeds the set threshold, the switching mechanism is activated, triggering a corresponding signal or action. This can include, for example, turning on or off a heater, fan, pump, or alarm display. Additionally, the UTS-1 has the capability to output the measured temperature value as an analog signal to a higher-level control or evaluation unit. Adjustable temperature switches like the UTS-1 find applications in various fields, including industry, HVAC, process control, and security systems. They enable users to customize temperature control and automatically manage the operation of devices or systems to ensure safe and efficient operation.
Industries & Applications
Hydraulic Units
Adjustable temperature switches are used in hydraulic systems to monitor the temperature of hydraulic oil. An excessively high oil temperature can indicate system overload or inefficient cooling. The adjustable temperature switch triggers an alarm signal or shuts down the system when the threshold is reached to prevent damage from overheating.
Generators
In generators, whether in stationary facilities or mobile devices like backup generators, adjustable temperature switches play a crucial role in monitoring and controlling operating temperature. They monitor the temperature of components such as the generator bearing, cooling system, and generator winding to prevent overheating and ensure reliable operation.
Heating and Cooling Systems
Temperature sensors are used in heating and cooling systems to monitor room temperature and activate or deactivate the corresponding devices to maintain the desired temperature.
Industrial Process Control
In industrial plants, temperature sensors are used to monitor temperature in various processes, such as chemical reactors, furnaces, melting ovens, steam boilers, and other thermal applications. This enables precise control and regulation of process temperatures.
Security Systems
In safety-critical applications, such as fire protection systems, temperature sensors are used to detect potential hazards. They can trigger an alarm signal or activate the sprinkler system when a specific temperature is reached.