The use of analogue level and temperature measuring devices is possible in almost all kind of fluids.
The combined device is used for example in shipbuilding, off-shore, petrochemical, plant construction, mechanical engineering, hydraulic power packs, cooling systems, power plants and in other energy systems.
Sliding tube in brass
Large selection of designs.
Individual solutions of connection, mounting, material, functiona...
Measuring principle reed chain in the resolutions 2.5mm; 5mm; 10mm
Signal output 4-20mA, 0-10V or resistance potentiometer function.
Device versions with level and temperature display
PAN-1...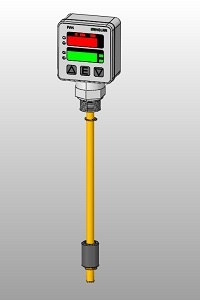 Two LED displays indicating level and temperature
Programmable outputs
Stem in brass
Housing with M12 connection
Float material NBR
...