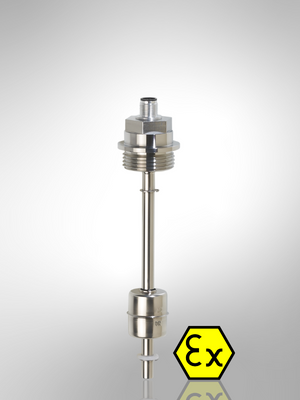 Mini float switches with ATEX approval are suitable for use in explosive media and environments according to Directive 2014/34/EU. Mini float switches are passive devices and do not require a power supply.
All standard ATEX devices are offered for a temperature range of -20°C to +105°C in the medium, or -20°C to 70°C above process connection. UniEx.M mini float switches are manufactured according to customer requirements and can therefore be individually configured and used for a wide range of applications.

Simply configure and request UniEx.M now without obligation or arrange a consultation appointment!

Mini float switch in combination with temperature switch/sensor
Optionally, we equip the UniEx.M series devices with temperature switches/sensors. Both temperature switches, which open or close at a desired temperature, and temperature sensors, such as PT100/PT1000, can be combined with the mini-float switch.
ATEX certification


BVS 21 ATEX ZQS/E377 Production Quality Assurance Notification
BVS 15 ATEX E 086 X EU-Type Examination Certificate


Applied standards

EN IEC 60079-0:2018 General requirements
EN 60079-11:2012 Intrinsic Safety "i"
EN 60079-26:2015 Equipment protection level (EPL) Ga


ATEX marking


CE 0158 II 1/2G Ex ia IIC T3...T6 Ga/Gb
CE 0158 II 1/- D Ex ia IIIC T* °C Da
CE 0158 II 1 D Ex ia IIIC T* °C Da

Electrical connection

aluminium housing, stainless steel housing, plug-type connector, sheathed cable
for details please see data sheet UniEx.M

Process connection

thread, flange | For details please see data sheet UniEx.M

Tube


ø 8 mm, material stainless steel 1.4571 | further materials on demand

Tube length


according to specification | max. 1500 mm

Float


ø 27 x 31 mm cylinder, material stainless steel 1.4571


Reed contacts


max. 3 normally open/ normally closed contacts or change-over contacts (without temperature switch or PT100/PT1000)

Switching capacity


30V / 100mA – Ex barrier mandatory!
To be operated in intrinsically safe circuits - type of protection Ex i!

Pressure


max. 6 bar

Protection rating


IP 65

Operating temperature


-20°C to 105°C in medium, -20°C to 70°C above mounting


Temperature switch

in combination with max. 2 switching contacts n.o. / n.c. contact or change over contact

PT100 / PT1000

in combination with max. 2 switching contacts n.o. / n.c. contact or change over contact

Optional: temperature switch / temperature sensor

Temperature switch

Bi-Metal
Switching function

Öffner/Schließer
Accuracy


± 5 °C, smaller tolerances on demand |

reset-temperature = Temp.-switching point - 30°C ± 15 °C

Number of contacts


max. 2 temperature switches

Switching capacity

30 V / 100 mA
Temperature sensor

platinum resistor PT100 / PT1000 according DIN EN 60751, class B

Nominal resistance

PT100: 100 Ohm | PT1000: 1000 Ohm
Temperature coefficient

0,00385
Tolerance class

DIN EN 60751, class B
Self-heating

PT100: 0,4 K/mW | PT1000: 0,2 K/mW
Long-term stability
after 1000h at 150°C

R0 < 0,06 %
For further technical features and details as well as the ordering code, please see data sheet UniEx.M.
Level Control in Hazardous Areas
ATEX float switches are used to monitor the liquid level in containers and tanks in environments with potentially explosive atmospheres. They enable accurate level detection and ensure that the liquid level remains within specified limits to minimize potential safety risks.
Pump Control and Protection
In hazardous areas, ATEX float switches take on the task of controlling and protecting pumps. They monitor the liquid level and activate the pump when necessary to ensure an adequate liquid supply. If the liquid level becomes too low, they can deactivate the pump to prevent dry running and associated hazards.

Alarm Signaling
ATEX float switches also serve as alarm devices in hazardous environments. They can trigger a visual or audible alarm when the liquid level reaches a critical value or when a system malfunction occurs. This allows for quick response and measures to prevent accidents or damage.

Process Monitoring
ATEX float switches play a crucial role in monitoring processes in hazardous areas. They ensure that the required liquid levels are maintained in the equipment to ensure safe and efficient operation. By automatically controlling the liquid flow, they contribute to optimizing process workflows.

Liquid Shutdown in Case of Danger
ATEX float switches can also serve as a safety precaution by shutting off the liquid supply to a facility or system in hazardous areas when a danger is detected. This may be necessary, for example, in the case of a gas leak or other critical situation to ensure safety and prevent the spread of an explosion.
The mini float switch may only be operated with certified intrinsically safe circuits with the permissible maximum values.
The device must be included in the periodic pressure/safety test of the container.
The mini float switch must be electrically connected to the equipotential bonding system of the plan
Chemical Industry
In the chemical industry, ATEX float switches are indispensable for monitoring the level of chemicals in tanks, storage tanks, and containers. They ensure accurate detection of liquids such as solvents, acids, and other chemicals to detect potential risks early and maintain safety standards.
Oil and Gas Industry
In the demanding oil and gas industry, ATEX float switches are used to control the level of oil, fuels, and other liquids in tanks, pipelines, and storage facilities. With their precise monitoring, they help prevent leaks and overfills, thus ensuring the safety of the facilities.
Petrochemical Industry
In the petrochemical industry, ATEX float switches play a crucial role in monitoring liquids such as crude oil, chemicals, and gases in tanks, storage tanks, and processing plants. They enable precise level detection to minimize accidents and security risks.
Mining Industry
In the mining industry, ATEX float switches are essential for monitoring liquids such as water, slurry, and chemicals in settling ponds, slurry tanks, and other facilities. Their reliable measurement contributes to the safety of workers and the prevention of environmental pollution.
Energy Generation
In the energy generation sector, whether in power plants or renewable energy facilities, ATEX float switches are essential components for monitoring coolants, oils, and other liquids in tanks and equipment. They ensure precise level detection to maximize the efficiency and safety of the energy generation process.
Tanks for Flammable Liquids
ATEX float switches are the ideal choice for monitoring tanks containing flammable liquids. They reliably detect the level of liquids such as fuels, oils, and chemicals, providing timely warnings of overfill or low liquid levels to minimize potential security risks.