The use of the combined device is possible in almost all kind of fluids.
Detection of levels and temperature in shipbuilding, off-shore, petrochemical and chemical sector, plant construction, mechanical engineering, hydraulic power packs, cooling systems, potable water treatment, food and beverage industry, power plants and other power systems.
Sliding tube optionally in stainless steel or brass.
Use in high operating pressures possible.
Individual solutions concerning connection, mounting, material, function ...
Temperature output relay potential-free
Analogue output with ETSM-4
Temperature display on ETSA-2 ... and ETSM-2 ...
Temperature setting in the housing
ETSM-4...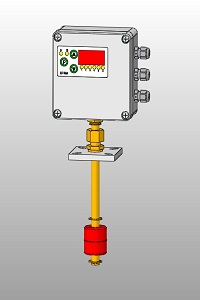 Analogue outputs for level and temperature
Max. 6 switching outputs
3 digit Temperature display
Temperature adjustment in the housing
Slidingtube in brass or stainless steel
Aluminum housing
Float material selectable
...