The use of the combined device is possible in almost all kind of fluids.
Detecting levels and temperature in petrochemical and chemical sector, plant construction, refrigeration, potable water treatment, beverage industry, power plants other power systems.
Sliding tube in plastic.
Individual solutions of connection, mounting, material, function ...
Temperature detection e.g. via PT100, PT500, PT1000 ...
SSP...98...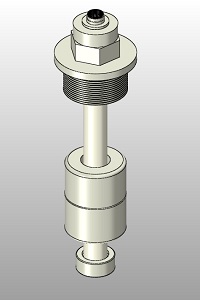 Sliding tube material selectable
3-pin connector DIN
Float material selectable
Mounting material selectable
...