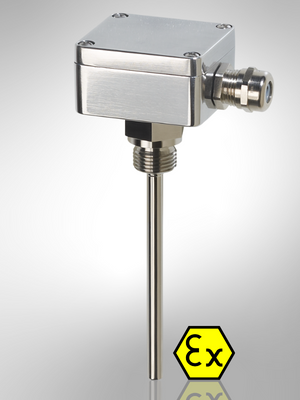 Temperature switches and temperature sensors with ATEX approval are suitable for use in explosive media and environments according to Directive 2014/34/EU. Float switches are passive devices. They do not require a power supply. All standard ATEX devices are offered for a temperature range of -20°C to +105°C in the medium, or -20°C to 70°C above process connection.
For PT100/PT1000 temperature sensors, platinum measuring resistors according to DIN EN 60751, Class B are used.
These can be implemented in 2-, 3- or 4-wire technology.

Simply configure and request UniEx.T now without obligation or arrange a consultation appointment!

UniEx.T temperature measuring devices are built according to customer specifications and can thus be individually configured and used for a wide variety of applications.
Certificate


BVS 21 ATEX ZQS/E377 Production Quality Assurance Notification
BVS 15 ATEX E 086 X EU-Type Examination Certificate


Applied standards

EN IEC 60079-0:2018 General requirements
EN 60079-11:2012 Intrinsic Safety "i"
EN 60079-26:2015 Equipment protection level (EPL) Ga


ATEX marking

CE 0158 II 1/2G Ex ia IIC T3...T6 Ga/Gb
CE 0158 II 1/- D Ex ia IIIC T* °C Da
CE 0158 II 1 D Ex ia IIIC T* °C Da

Electrical connection

aluminium housing, stainless steel housing, plug-type connector, sheathed cable
for details please see data sheet UniEx.T

Process connection

thread, flange | For details please see data sheet UniEx.T

Tube


ø 8 mm or ø 12 mm, material stainless steel 1.4571 | further materials on demand

Tube length


according to specification | max. 3000 mm

Pressure


max. 40 bar

Protection rating


IP 65

Operating temperature


-20°C to 105°C in medium, -20°C to 70°C above mounting


Temperature switch

bi-metal

Switching function

normally closed / normally open contact

Accuracy

± 5 °C, smaller tolerances on demand |

reset-temperature = temperatur switching point - 30 °C ± 15 °C

Number of ontacts

max. 2 temperature switch

es

Switching capacity

30V / 100mA

– Ex barrier mandatory! To be operated in intrinsically safe circuits - type of protection Ex i!

Temperature sensor

Platinium resistor PT100 / PT1000 according DIN EN 60751, class B

Nominal resistance

PT100: 100 Ohm; PT1000: 1000 Ohm

Temperature coefficient

0,00385

Tolerance class

DIN EN 60751, class B

Self-heating

PT100: 0,4 K/mW; PT1000: 0,2 K/mW

Long-term stability
after >1000h at 150°C

R0 Drift< 0,02 %
For further technical features and details as well as the ordering code, please see data sheet UniEx.T.
Level measurement in many liquid media, e. g. water, oil, fuel
Large field of application due to the proven functional principle:
Monitoring of processes, predetermined levels as well as pumps and level controls
Chemical industry, petrochemical industry, mechanical engineering, shipbuilding industry, offshore facilities, energy plants and others
Areas of application are, for example, barrier pressure vessels, agitators or printing machines
High durability
The temperature sensor/switch may only be operated with certified intrinsically safe circuits with the permissible maximum values.
The device must be included in the periodic pressure/safety test of the container
The temperature sensor/switch must be electrically connected to the equipotential bonding system of the plant.