Magnetostrictive level measurement combined with temperature output 4-20mA
Use of the combined device MWT -..... is possible in almost all kind of fluids.
Detecting levels in petrochemical plants, pharmaceutical, medical facilities, equipment for surface treatment, thin film, wet chemical processes, power plants and other power systems.
Sliding tube in different plastics or stainless steel.
Very large selection of different designs.
Individual solutions of connection, mounting, material, function...
MWT-...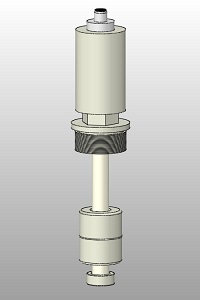 Configure your device individually.
Different materials of connection, mounting and float are available.
...
The magnetostrictive level measurement is a high-precision, continuous level measurement for level detection.
The float-controlled sensor consists of a magnetostrictive sensor and a transmitter in the connection housing.
The system delivers an accuracy of up to 0.1%. At the same time, the principle enables a very high resolution of ≤0.5 mm.
In addition, the device is equipped with a temperature sensor, which makes it possible to record the temperature in the process at the same time.
Combined magnetostrictive level and temperature measurements from Engler are characterized by a variety of different connections and mounting options and thus offer every user an application optimized to the process.
Advantages of Combined Magnetostrictive Level and Temperature Measurement:
High resolution 0.5 mm and high accuracy 0.1%
High linearity
2x analog output 0..10V or 4..20mA for level and temperature
Optional interface measurement
Many different materials, e.g. Stainless steel, PP or PVDF